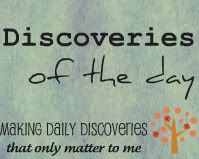 Sandwiching a quilt makes me feel like an old lady.

I really love the color combination of pink and brown.

or mint and brown

or turquoise and brown...I'm quite possibly obsessed.

I am more like my grandmother than I care to admit.

The back of the van (where the kids sit) is disgusting.

I eat entirely too much sugar and sugar-like products.

To get a "mother's ring" like my grandma's, we'll have to save for awhile.

I have way too much stuff.

I am SO tired of the "alpha male contest" in my house.